What is the SMS Bomber Android Apk:
SMS BOMBER APK: The leading website Android prank app device by far is SMS Bomber APK. High volume SMS could be sent through the application to every number. Some other greatest part about SMS Bomber Apk is that BULK SMS can be sent to Indian phone numbers using it. This is currently the only application available out there that enables users to send SMS to every unique Indian number. The prank application is freely available, and there are no secret costs. So, the utilities in the applications are totally free, and sending SMS does not enforce any limitations. Not just that, but SMS Bomber Apk has been one of the internet's most common prank applications that hides the user's private information.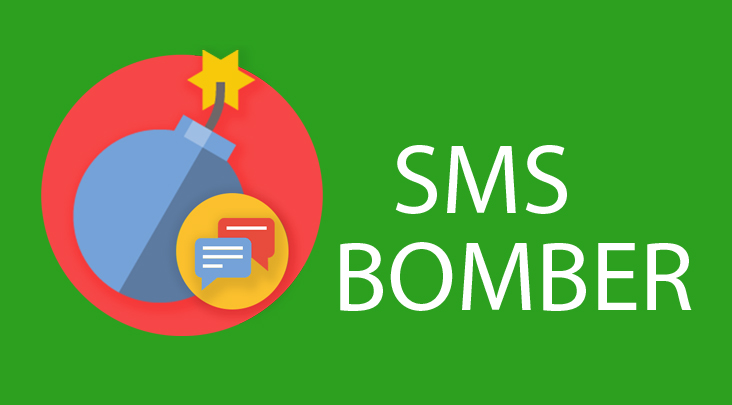 That ensures that all the information will be concealed, and by sending unrestricted text messages, the recipient would not be able to determine who is frustrating them. Still, for bad reasons, please don't exploit the application and it should be used for enjoyable purposes only.
About SMS Bomber Apk:
Looking around, we'll discover that nearly everyone now has an android device. The reason why millions of customers enjoy Android right now is its infinite possibilities for customization. We can potentially extend the capabilities of the android operating system because it's dependent on Linux and open-source in nature.
We'll find endless applications for any different use if we open the Google Play Store. In this post, we're trying to discuss about one of the best applications on your android device that might be interesting. The app we're going to talk about below is classified as SMS Bomber Apk, and it's by far the most fun application on your android mobile that anyone would like to have.
SMS BOMBER APK DOWNLOAD
The application will only be used for enjoyable reasons, and kindly don't use it to hurt innocent people. Unlimited SMS may be sent to any arbitrary number by the SMS Bomber Apk. This is specifically the application used to send Indian cell phone numbers to Bulk SMS. So, then let's look more closely at 2019 SMS Bomber Apk.
Information About SMS Bomber:
| | |
| --- | --- |
| App version | Lates |
| App size | 11.3 MB |
| Developed by | UK |
| Android version | 2.3.4 and Above |
| Category | Communication App |
| Latest Update | 04,OCT,2020 |
Downloading SMS Bomber APK for Android: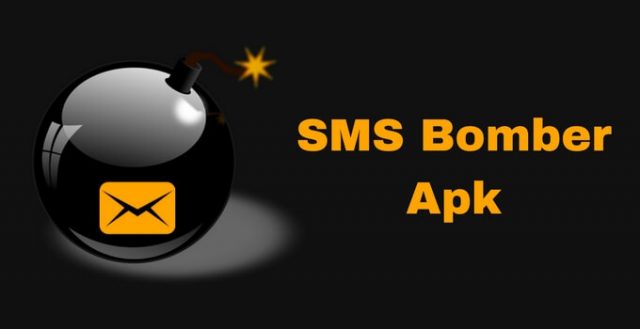 If you're using the SMS Bomber application, you just need to do so. When you take those measures, as if you're not using messages of violence. Know, you will be used as spam if you use malicious posts. Do not send your SMS regularly to the same number if you'd like to keep your account safe.
The guidelines of this app must be duly observed by you. If you do not over and over again send sms and harassment messages, your account will be secure and this spam would not come to you.
How To Install SMS Bomber Apk On Android:
Firstly, downloaded the SMS Bomber Application from the main site of BOMBitUP.
When downloaded, switch to Settings > Security > Unknown Sources, but instead toggle on Unknown Sources.
Now, just go to locate where on your system you save SMS Bomber Apk and then install it as usual during the next process.
Open the application after it is installed, and you can see the given below. Just key in the telephone number and click 'Start'.
Click on 'Stop' if you want to stop the Text message sending procedure.
Here's how you could instal SMS Bomber Apk on the android device and download it.
READ MORE: AVG ANTIVIRUS PRO APK
Features of SMS Bomber Android Apk: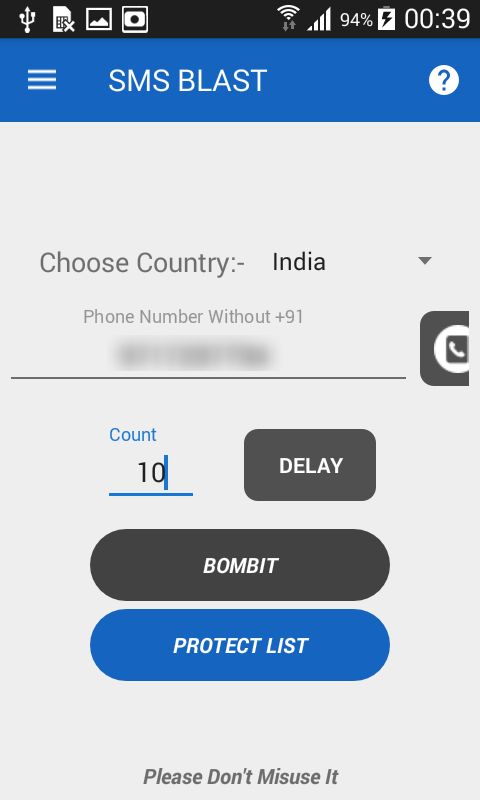 Without a question, SMS Bomber Apk is among the best Ios prank applications on your Android device that you can use. The software comes with lots of interesting functionality that we will review below. So, let's try out one of SMS Bomber Apk 's main functionality.
Free of Cost:
First of all, a fully free application is the SMS Bomber Apk, and you can give your mates limitless SMS for free. There are even no secret costs for the app. Therefore, the application and the utilities remain fully free of charge.
Amazing Interface:
Oh, since we all know, the application's interface plays a vital part in any app's progress. A nice looking gui that shouldn't look confusing at all even comes with the SMS Bomber Apk.
Secure protect :
Though we have mentioned above already. SMS Bomber Apk does not disclose to the recipient the sender's files. So, the app is completely encrypted, and when sending the bulk SMS, you would be considered confidential.
No Advertisements :
The SMS Bomber Apk is a completely free application, as we've already stated above, and the facilities are free to use. You'll be surprised to hear that the app does not really display advertising. So, the software is completely ad-free.
On the Low Internet, Runs :
Ok, in such types of advertising, poor data speeds is the main concern. SMS Bomber Apk, though, is highly designed, and it can run on the Internet at a sluggish pace. Not just that, but a 2 G link will also operate with the application.
The features are awesome, aren't they? Well, SMS Bomber Apk's features are not only restricted to the mentioned ones. When using the application, the app will do plenty of other tasks in which you can try.
Conclusion:
SMS Bomber Apk is by far the best online Android prank application software. Bulk SMS can be sent to any number via the application. Another greatest part about SMS Bomber Apk would be that BULK SMS can be sent to Indian mobile phone number using it. If you require more assistance with respect to the installation process, then in the forums, discuss the matter it with us.